Fitness enthusiasts, especially bodybuilders, need a lunch box that will hold up to eight meals daily so they can hit their macronutrient goals. Whether that's a high protein, low carb meal, or something else, they need a box that will keep it cool and safe to eat. In this case, Insulated bags are the best way to do this. They'll hold the temperature of whatever food you put in them, even if you leave them for hours.
As a bodybuilder, your lunch box is an essential tool in your arsenal. Moreover, it's necessary to choose a lunch box that can accommodate your meal prep needs while also being durable and easy to carry. In this article, we're going to explore the best lunch box options for bodybuilders.
Top 5 Lunch Boxes For Bodybuilders For Carrying Their Meals To Work
Here are top 5 boxes for carrying your meals to work which can allow you to select from a variety of colors and styles.
1. IsoBag 6
The IsoBag 6 is a multi-compartment, insulated meal bag allowing you to take up to six meals. It is designed to keep your food cold for 12-16 hours, so you can eat without worrying about spoiling the contents of the bag.
Top Pick
Isobag Meal Prep System – 6 Meal
This meal prep bag is best  for bodybuilders because it helps you stay on track with your nutrition plan. It has a top-loading compartment and two insulated side pockets, so you can easily grab the foods you need when you need them most.
This is a premium product and is available in a variety of sizes to meet your needs. It includes six food containers, a shaker cup, and a pill organizer. It also has a shoulder strap for convenient carrying.
2. Matein Insulated Cooler Backpacks Lunch Box
A backpack with an insulated cooler compartment is the perfect choice for anyone looking for an all-in-one lunch box solution to keep your food cold and your drinks iced all day long. Some backpacks also have a separate compartment for non-food items such as books or extra clothes.
Top Pick
Insulated Cooler Backpack Lunch Box
This insulated cooler backpack from Matein is a great option for those looking for a multifunctional commuter or school bag with an insulated lunch section and a 17-inch laptop sleeve. It also features a large main compartment, two smaller front pockets for accessories, and two side mesh drink pockets.
It is ideal for work, school, picnics, camping, hiking, and other outdoor activities. It's also a great gift for men, women, and teens. It is made of durable, water-resistant fabric that keeps your valuables safe while on the go. Its main compartment has many pockets to keep your books, clothes, umbrella, mobile phone, wallet, pens, and keys, etc.
3. IsoDuffle
It is crucial for bodybuilders to have a lunch box that can help them pack their meals and carry other important things, like protein bars. It should also be easy to use and durable.
Fortunately, there are a few options available that can meet these criteria. Read on to learn more about these top picks, and then find the best lunch box for you!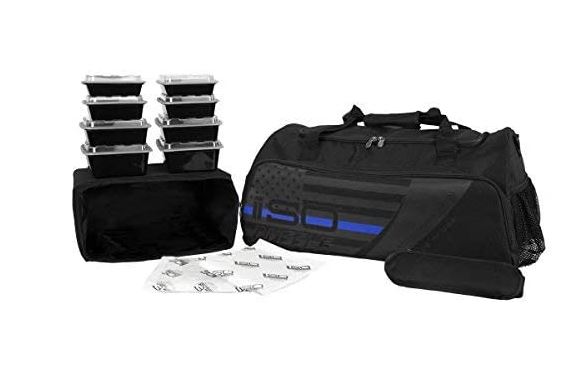 If you want to keep your food cold and fresh for 12-16 hours, then the IsoDuffle is for you. Its removable insulated compartment keeps your food cool and fresh, so you can have a hassle-free meal prep experience. Plus, it has a front zipper that provides easy access to your meal prep containers. Lastly, it has two built-in mesh side pockets to store extra drinks, phones, keys, or anything else you need.
4. Six Meal Cube
Bodybuilders need a lunch box that will keep their food dry and one that can carry protein bars and shakes along with meals. Fortunately, there are some excellent options available on the market today.
The Six Meal Cube is one of them, and it comes with four different-sized containers to hold your food. It also has mesh pockets for a water bottle and shaker cup.
This bag is a lifesaver for those who are bodybuilders since it is leakproof. This is especially important because sometimes when you are eating and it is cold, your food starts to leak into your clothes! It is also very easy to wash and clean. It even has a built-in oven to warm your meal up when you get home.
5. Sidekick & Harness
The Sidekick & Harness is the perfect accessory for bodybuilders who are on the go. It attaches to your ISOBAG and allows you to store your Isolator Proforce Series Lifting Straps in a separate compartment while you're on the road. It also comes in a range of colors and styles.
The Sidekick & Harness is made with flexible padded mesh that is soft, strong, and breathable. It also features a powerful Velcro and front snap that keeps it securely in place while you're on the go. It also comes in various colors and sizes, from Tiny to XX-Large. This is a must-have for any fitness enthusiast, trainer, or avid outdoorsman. It's easy to put on and take off! It's great for daytime walks and even for nighttime strolls with its reflective strips.
Sum and Substance
Whether you choose an insulated lunch bag, a meal prep container, or a backpack with an insulated compartment, make sure it meets your needs and fits your lifestyle. With the right lunch box, you'll be able to stay on track with your nutrition and reach your bodybuilding goals.