Workout is proven to have many benefits on your mind and body. But consistency is the key to maintaining those benefits, and having some fitness equipment at home can be helpful  when committing to a routine. To Enhance our fitness level, home fitness equipment can play a vital role. Fitness enthusiasts who are looking for a full-body workout without compromising  living space, Door fitness equipment is ideal for them. Besides,  a convenient and affordable way to work out at home should consider investing in door fitness equipment. This specific fitness equipment typically attaches to the top of a door frame so that it is out of the way and easy to use.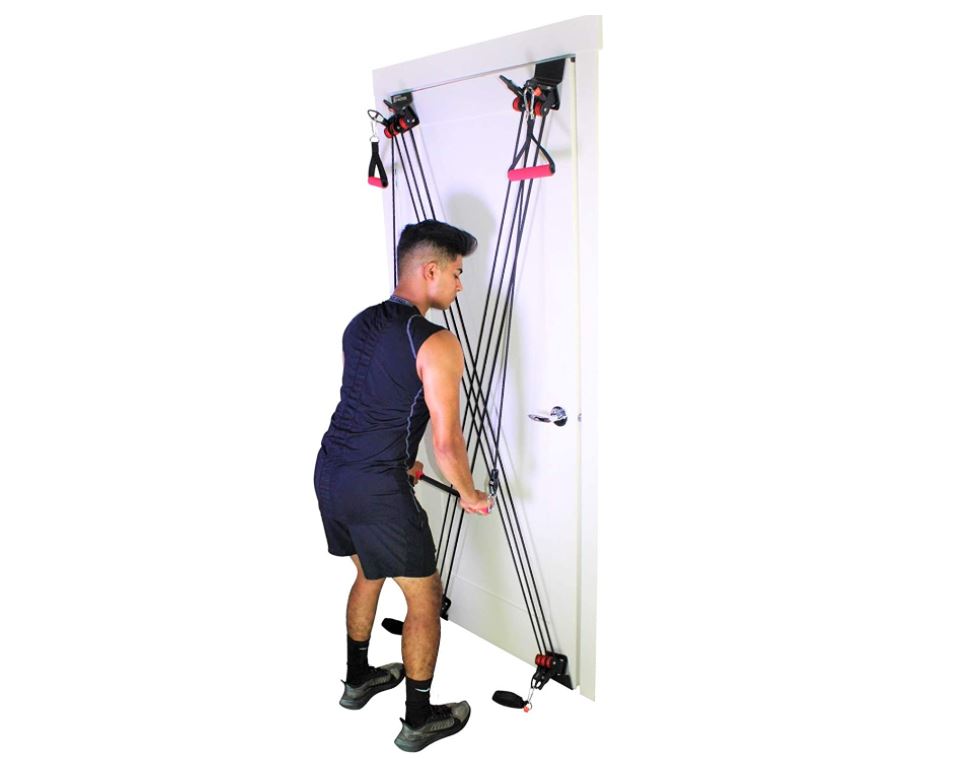 The Best 4 Door Fitness Equipments Trending Now
In order to Shop Door Fitness Equipment,  you must be careful of these pieces of exercise equipment as they can be expensive and bulky.
Fortunately, some very affordable door gym resistance band systems are available for home use. These door-anchored resistance band systems will save you a ton of valuable space and provide an effective workout for your entire body.
TRX All-In-One Suspension Training Fitness System
A whole-body gym system that can fit anywhere
The TRX All-In-One Suspension Training Fitness System is a popular piece of equipment that is designed to help people of all ages and fitness levels achieve their goals. It uses body weight and gravity as resistance to increase strength, balance, coordination, flexibility, core stability, power, and endurance.
The system is a great choice for those who are looking for a complete, all-in-one home gym that can be set up in a matter of minutes. Its adjustable design allows it to be used by anyone of any height or fitness level.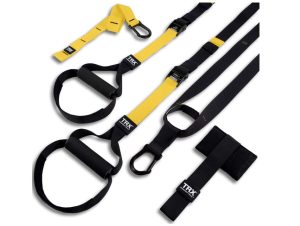 TRX All-In-One Suspension Trainer is also best for those who are looking for a low-impact, no-nonsense workout that requires very little space and can be done almost anywhere with an anchor point. It's ideal for those who travel a lot, as it can be a versatile and effective tool for workouts while on the go.
Black Mountain Products Resistance Band Set
Resistance bands are a great option if you want to add some resistance to your bodyweight workouts or are looking for a more versatile alternative to dumbbells. They are lightweight and portable, so you can take them with you anywhere.
They also come in various sets, so you can opt for a specific resistance level to best suit your needs. Each set includes multiple bands with different resistance levels, handles, and ankle straps.
The Black Mountain Products Resistance Band Set is one of the most popular options for door fitness equipment. It comes with multiple bands, handles, ankle straps, and a starter guide to help you get started.
These bands are made of high-quality rubber, so you can work them out on any surface, including concrete, asphalt, or timber. Plus, they don't release a rubbery smell that some other types of resistance bands tend to.
UFC Door Gym
UFC Gyms have a wide range of equipment, from sledgehammers to high-tech treadmills. They are the perfect place to go to get in shape, learn martial arts basics or improve your game plan. They are also the place to try your hand at a new sport.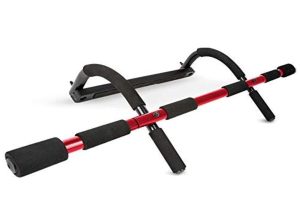 The UFC Door Gym is a multi-functional mini gym that will get your workout juices flowing in seconds. It features some of the best technology in a small package, including a foam-padded grip to boot. It can be used to perform multiple upper body exercises, including a full range of pushups, pull-ups, and chin-ups, with an added bonus of a low-profile design that won't get in the way of your daily commute.
Let's face it, if you're looking for the perfect balance between exercise and entertainment, there is no one size fits all solution, so don't be afraid to experiment to find your own optimal combination of cardio, strength, and flexibility.
Weider X-Factor Door Gym
The Weider X-Factor Door Gym is an excellent option for home fitness equipment. It is designed to attach to virtually any door and can be used to train the entire body. Moreover, it provides 210 pounds of dynamic resistance to enhance upper and lower body workouts.
Its high and low cable pulleys enable you to perform various exercises like biceps curls, triceps extension, chest press, lat pull-down, and seated rows. It also allows you to adjust the angle of resistance so you can target different muscle groups and build strength.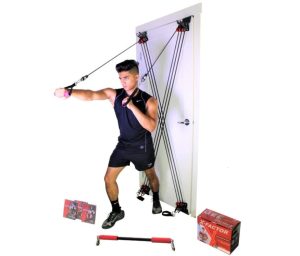 It is relatively easy to assemble and will fit most doors. However, it requires some room on the other side of the door to be mounted. It will work best on a door that has at least 1/8 of an inch clearance on the bottom and enough space on top for it to slide over the door.
FAQs about Door Fitness Equipment
1. Does Door Fitness Equipment require a lot of maintenance? 
A. No, Door Fitness Equipment is designed to require minimal maintenance, with simple cleaning and lubrication of parts recommended.
2. Is Door Fitness Equipment easy to assemble?
A.  Yes, all Door Fitness Equipment is designed to be easy to assemble, with all necessary tools included.
3. What types of fitness equipment does Door Fitness offer? 
A. Door Fitness offers a wide range of fitness equipment for home gyms. It includes treadmills, ellipticals, stationary bikes, free weights, and more.