Whether you're a fitness enthusiast, an avid runner, or simply looking to enhance your exercise routine, investing in the perfect pair of barefoot workout shoes can make a significant difference. With the market flooded with options, it can be overwhelming to choose the best ones. That's why we've compiled a list of the top four shoes for barefoot workout available today will help to ensure you make an informed decision for your fitness journey.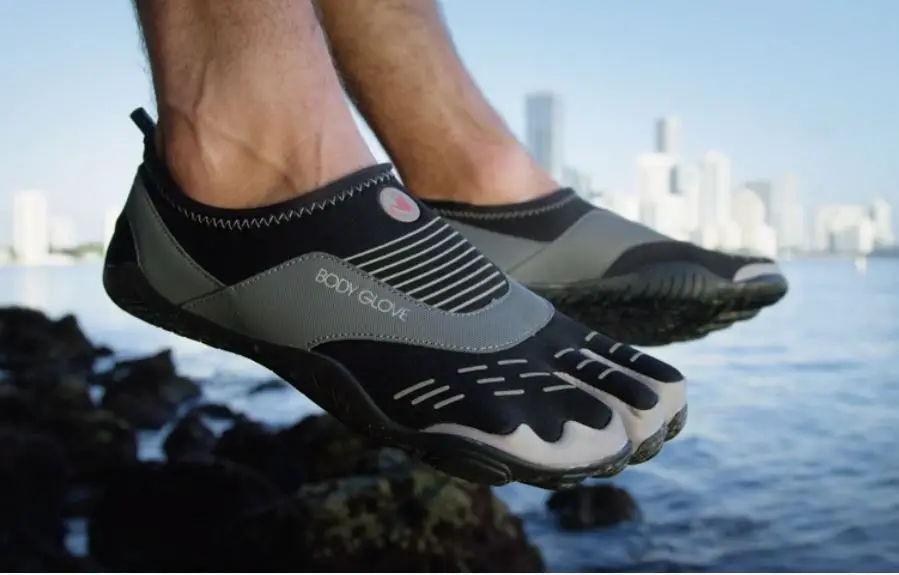 At present, the popularity of barefoot workouts has soared due to their numerous benefits. Designed less for running and more for gym workouts, the barefoot workout shoes offer support for squats and jumps while also allowing your feet to feel the ground. The grippy sole is great for cross-training sessions, and the FiveFingers design allows for a natural toe splay. We have discovered the 4 best barefoot workout shoes that will empower you to unleash your full potential. So, lace up and get ready for a thrilling barefoot experience!
How do I choose the best barefoot workout shoes?
To choose barefoot workout shoes, consider the following factors:
Flexibility: Look for shoes that allow natural foot movement and flexibility.
Sole thickness: The sole should be thin to provide ground feel and sensory feedback.
Optimal Traction: Check for adequate grip and traction on various surfaces.
Breathability: Opt for shoes made from breathable materials to keep your feet cool and dry.
Customizable Fit: Look for shoes that offer adjustable features like laces or straps, allowing you to achieve a snug and secure fit. This ensures your shoes stay in place during vigorous movements, providing the stability and confidence you need.
The 4 Best Barefoot Workout Shoes, Both For Men And Women
These are great for beginners to do barefoot training because they have a zero-drop design and a wide toe box. The upper construction is also durable enough for everyday wear.
Vivobarefoot shoes are a bit different from most traditional athletic footwear in that they're designed to be foot-shaped rather than shoe-shaped. While that may look odd and take a little getting used to, it helps them promote natural movement and healthy posture.

Pros: The soles are also thin and flexible, making them ideal for various workouts. They have no heel drop and are extremely lightweight, so they can also be worn for long-distance runs. They're also vegan and made with recycled materials, which makes them a great choice for environment-conscious exercisers.
Cons: Some users have reported that the sizing is off, especially in regard to the width of the forefoot and midfoot.
Recommendation: We recommend to let you try these on and go down a size if you're unsure of your exact fit. Otherwise, you risk having heel slippage problems. These are also not available in half sizes, so if you have a wide foot, you might have trouble finding a comfortable fit.
While they are not true barefoot shoes, these minimalist workout shoes from Barefoot Revolution look more like everyday footwear and provide a good entry point to a more minimal running style. They feature a wide toe box that allows toes to splay naturally, zero drop heel, and a FeelTrue rubber sole that provides the raw feedback that diehard barefoot runners crave.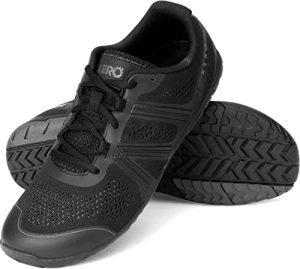 Another perk of the Prio is its durability for lifting and cross-training contexts and its ability to be worn with or without socks. Plus, the 5.5mm sole puts you close to the ground and allows you to remove the 2mm foam insole to reduce the shoe's weight further.
TJ Mentus, CPT, a certified personal trainer and weightlifting coach at Garage Gym Reviews, recommends these barefoot workout shoes because of their durability and superb traction. He also says the shoe's thick ankle cushion provides a good fit that can help protect your feet from crushing weights.
Vibram is a world-renowned sole manufacturer and took a bold step when it launched the FiveFingers shoe line in 2006. These shoes bridge the gap between footwear and true barefoot training. They provide support with a thin, flexible sole and allow the wearer to perform activities freely and naturally as if they were wearing nothing at all.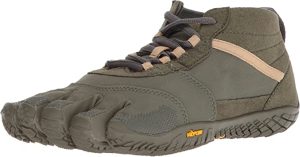 Transforming to FiveFingers can be difficult if you are used to running or walking in traditional running shoes. However, with a patient approach and the use of Correct Toe Spacers to encourage the development of separate toes, these shoes can help you build a more natural forefoot running style.
Research indicates that habitual runners with a forefoot strike have lower impact force and loading rates than runners who are traditionally heel strikers. They also have shorter stride lengths and higher stride rates. They are an excellent choice for reducing foot and leg injuries associated with heavy running.
The Merrell Vapor Glove 5 is an excellent barefoot trainer which offers a superior natural feel and outstanding versatility. Its supple, thin outsole and asymmetrical lug pattern highlight your foot's natural gripping ability. Several reviews note that the shoe tends to slip more on dirt. Still, it performs well over pavement and in the gym.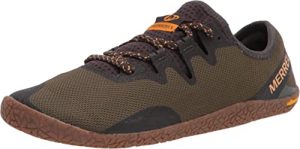 The 2mm Vibram Ecostep outsole is the thinnest in this review, putting your foot right against the ground for superior feedback and proprioception. An integrated 4mm EVA-foam insole adds just enough support to tackle rocky terrain, and the recycled mesh upper features a stretch collar for a snug fit.
The VG5 also offers a bit more protection than its predecessor, with a uniform lug pattern that prevents your feet from flexing as much when running over slick, dusty trails. The only drawback is that the lugs are very similar to those on the VG4. It may wear through at the same rate.
Frequently Asked Questions
Can I use barefoot workout shoes for different types of workouts?
Barefoot workout shoes are versatile and suitable for various exercises. They can be used for activities like weightlifting, yoga, Pilates, CrossFit, calisthenics, deadlifting, and other forms of bodyweight training. However, it's important to gradually transition into using these shoes to allow your feet and muscles to adapt to the different movement patterns.
Are there any downsides to wearing barefoot workout shoes?
While barefoot workout shoes have numerous benefits, they may not be suitable for everyone. Some individuals may find them uncomfortable due to the minimal cushioning, especially if they have certain foot conditions or require additional support. It's recommended to consult with a podiatrist or footwear specialist to determine if barefoot workout shoes are suitable for your specific needs.
How should I transition to barefoot workout shoes?
Transitioning to barefoot workout shoes should be done gradually. Start by wearing them for shorter durations during low-impact activities, allowing your feet and muscles to adapt. Slowly increase the time and intensity of use while listening to your body to avoid overuse injuries.
Takeaway Thoughts
The barefoot workout shoes can be great footwear options for fitness enthusiasts, providing a natural and unrestricted training experience. By prioritizing comfort, flexibility, traction, breathability, durability, and customizable fit, you can find the perfect pair of shoes that will elevate your performance and enhance your overall workout journey. Invest in quality barefoot workout shoes today and unleash your potential with optimal comfort and support.